Roof Installation in Washington, District of Columbia
Just as a biker's helmet protects his head from wind, rain, and flying objects, your roof shields your home from all weather conditions. A proper Washington, District of Columbia roof installation not only keeps you dry and safe, but it also adds to your home's curb appeal. Installing a new roof yields good returns on investment because your roof is one of the first things a potential buyer sees. If you show you take care of your roof, it is reasonable to assume other aspects of the house are also in good repair. According to a recent survey by Remodeling Magazine, a new roof adds up to $12,000 to a home's resale value. Washington roofing contractor, Family Home Improvement, LLC, has been installing, repairing and replacing roofs since 1960. If you're thinking of installing a new roof or you need roof repairs, give us a call for a free estimate.
$500 OFF
New Roofs
expires 12/31/2022
---
Call for a FREE Quote
---
Will Repairs Do, or Do You Need a Roof Replacement?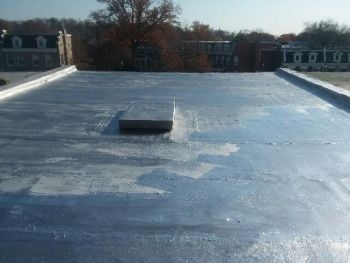 Worn out shingles around chimneys, skylights, and other roof openings are key indicators that roof repairs are needed. When you require multiple repairs on an older roof in Washington, new roof installation may actually be a better investment. When water penetrates these worn and gaping spaces on roofs, it leaks into your home causing damage to wood frames. If your roof hasn't reached its expected end of life and its missing shingles are few, you should get roof repairs done as soon as possible before more serious issues develop.
Unfortunately, sometimes when the damage becomes too extensive, repairing parts of your roof just isn't enough and it is time for a roof replacement. If you can see that your roof has suffered extensive damage, it may be quite obvious that repairs won't suffice. When you need a new roof installed on your Washington home, be sure to call the experts at Family Home Improvement, LLC.
Benefits of a New Roof Installation in Washington
There are many reasons why roof replacements are popular home improvement projects for home sellers or for folks how intent to enjoy their home for many more years. Today's high-tech roofing materials make new roofs more energy-efficient and durable than ones that were installed 30 years ago. Lower utility bills are a plus whether you plan to stay in your home or sell it. New Washington roofs that are made with higher quality materials come with longer warranties; this is a prime selling point for new home buyers. Since new shingles come in a variety of colors, styles, and textures, installing a new roof gives you an opportunity to update the entire look of your home. If you're ready to refresh your home's curb appeal, give us a call for a free consultation.
Reasons to Hire Family Home Improvement, LLC for Washington Roof Installation and Repairs
Working on roofs is dangerous. When repairing or replacing your Washington roof, you will need to climb a ladder with your tools and materials and walk carefully over a sloped roof that could be slippery. Without proper training and safety equipment, you could injure yourself and others. Family Home Improvement, LLC's Washington roofing specialists are trained, certified, and insured to deliver quality roofing solutions that meet industry safety guidelines and local building codes. We have a 62 years track record of customer satisfaction and would love to help you with your next roofing project. Give us a call to find out more about our services.
---
Call for FREE Roof Installation Quote
Dial Area Code first please.
---
WHAT CUSTOMERS ARE SAYING:
5★★★★★ - "Great customer service and great work. Would highly recommend them to anyone!"

Dan B., Roof Installation in Washington, DC

2022-03-24

5★★★★★ - "FHI comes highly recommended. The company educates, provides quality work, friendly and honest."

Gwen W., Gutter Installation in Washington, DC

2022-03-24

5★★★★★ - "The team showed up on time, worked hard to finish in one day, and brought to my attention several roofing issues of which I had been unaware."

William C., Roofing in Washington, DC

2022-03-24

5★★★★★ - "Timely, efficient and professional"

William R., Gutter Installation in Washington, DC

2022-03-24

"FHI fixed a leak in my roof. David took a video of my roof and described in detail the problems and how they could fix them. In less than 24 hr, my roof was successfully fixed. Afterward, I discovered splatters of the aluminum sealant on my deck and lawn furniture. Within 3 hours of notifying them, they had resolved the matter. Thank you, Mary, David, and Tim. Excellent customer service..."

Adriane D., Roof Repairs in Washington, DC

2021-05-04

4★★★★☆ - "Updating and upgrading because when the next downpour came, my roof was leaking again. FHI came out the same day and found where a squirrel had chewed through some mesh. They fixed it, and I'm happy to say that I have had no more issues. I think their intentions are good, and their work ethic is excellent. I have no qualms in recommending them."

Martha E, Roof Repairs in Washington, DC

2020-06-29

5★★★★★ - "We have been very impressed with Family Roofing: the office manager and the co-owner and staff we have had contact with have been very professional and conscientious. We contracted with Family Roofing to replace our roof when we discovered small leakage. One of the co-owners gave us two estimates, one for repair and one for replacement and advised of the long-term warranties for both options. We chose replacement since the price included the repairs and a 25 year warranty which included not only materials but any labor costs as well. The repair was done promptly over the days we were promised and the crew was very polite and thorough in ensuring a good job was done. Some other work was needed on the brickwork under a cracked chimney, so we contracted with them to repair and seal that as well and we have been assured that they will follow up to make sure if more sealant is needed on the chimney brick. We would definitely recommend their services to others."

Patricia, Roofing in Washington, DC

2020-03-17

5★★★★★ - "Recently Family Home Improvement fixed a leak in my roof. David provided me with an excellent overview of roofing and what to expect. Within 24 hrs the job was done successfully. However, I discovered splatters of the aluminum sealant on my deck and lawn furniture. Within less than 3 hrs, they resolved everything to my satisfaction. Thank you, Mary, David, and Tim!"

Adriane Dorrington

2021-05-04

5★★★★★ - "My experience was smooth and easy with no drama. The estimate was very reasonable and the lowest of the three that I got. The work was completed without any disruption to my personal schedule."

Anonymous

2020-04-08

5★★★★★ - "Had a leak in are roof Was recommended to this company by one of my co-workers said that they were fair and give them a fair price and was able to do a nice job they recommended replacing the roof and also give me an option to do a repair we decided to just do the new roof because the warrantee was better on the new roof then the repair they done the job promptly . They cleaned up well and took everything away from the yard they showed us pictures before after The work was completed we are going to recommend them to other friends the neighbours there probably is that again on another property"

Mike K, Roof Replacement in Ellicott City, MD

2020-03-17
---
Call for FREE Roof Installation Quote
Dial Area Code first please.
---