Roof Installation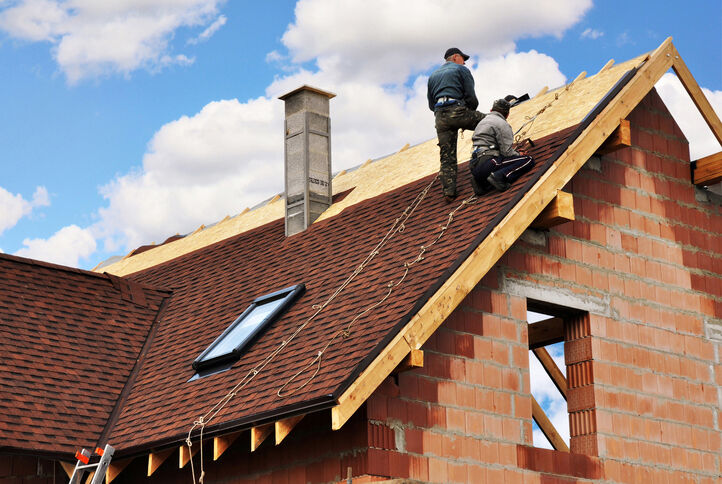 Just as a biker's helmet protects his head from wind, rain, and flying objects, your roof shields your family from all weather conditions. A well-maintained roof not only keeps you dry and safe, but it also adds to your home's curb appeal. Installing a new roof offers one of the highest returns on investment of all home improvement projects. According to a recent survey by Remodeling Magazine, a new roof adds up to $12,000 to a home's resale value. Local roofing contractor, Family Home Improvement, LLC, has been repairing and replacing roofs since 1960. If you're thinking of replacing your roof or you need roof repairs, give us a call for a free estimate.
★★★★★
"My experience was smooth and easy with no drama. The estimate was very reasonable and the lowest of the three that I got. The work was completed without any disruption to my personal schedule."
-Anonymous
---
Call for a FREE Quote
---
$500 OFF
New Roofs
expires 12/31/2023
Do You Need Roof Repairs or a Total Roof Replacement?
Worn out shingles around chimneys, skylights, and other roof openings are key indicators that roof repairs are needed. When water penetrates these worn spaces, it leaks into your home causing damage to wood frames. Missing shingles, which could have blown off during a storm or fallen because of wear, also signal the need to call your local contractor for roof repairs. If your roof hasn't reached its expected end of life and its missing shingles are few, you should get roof repairs done as soon as possible before more serious issues develop.
Unfortunately, sometimes when the damage is too extensive, repairing parts of your roof just isn't enough and it is time for a roof replacement. While in some cases replacing parts of a missing roof is sufficient, sometimes, water damage has occurred underneath the surface. In the instance that water damage has occurred within your roof, it is generally recommended to get a roof replacement as further damage is likely to develop. If you can see that your roof has suffered extensive damage, it may be quite obvious that repairs won't be enough. When you need a new roof installed on your home, be sure to call the experts at Family Home Improvement, LLC.
Benefits of Roof Replacement
There are many reasons why roof replacements are popular home improvement projects for home sellers. Today's high-tech roofing materials make new roofs more energy-efficient and durable than ones that were installed 30 years ago. Lower utility bills are a plus whether you plan to stay in your home or sell it. New roofs that are made with higher quality materials come with longer warranties; this is a prime selling point for new home buyers. Since new shingles come in a variety of colors, styles, and textures, installing a new roof gives you an opportunity to transform the look of your home. If you're ready to refresh your home's curb appeal, give us a call at (202) 888-3449 for a free consultation.
Reasons to Hire Family Home Improvement, LLC for Roof Repair and Replacement Projects
Working on roofs is dangerous. When repairing or replacing your roof, you'd have to climb a ladder with your tools and materials and walk carefully over a roof that could be slippery. Without proper training and safety equipment, you could injure yourself and others. Family Home Improvement, LLC's roofing specialists are trained, certified and insured to deliver quality roofing solutions that meet industry safety guidelines and local building codes. We have a 63 years track record of success and would love to help you with your next roofing project. Give us a call at (202) 888-3449 to find out more about our services.
---
Call for Fast FREE Quote
Dial Area Code first please.
---